Contact Information
Nathan Ersig '98
Senior Director of Development
Send Email
Phone: 563-387-1510
Give Now
Team Locker Rooms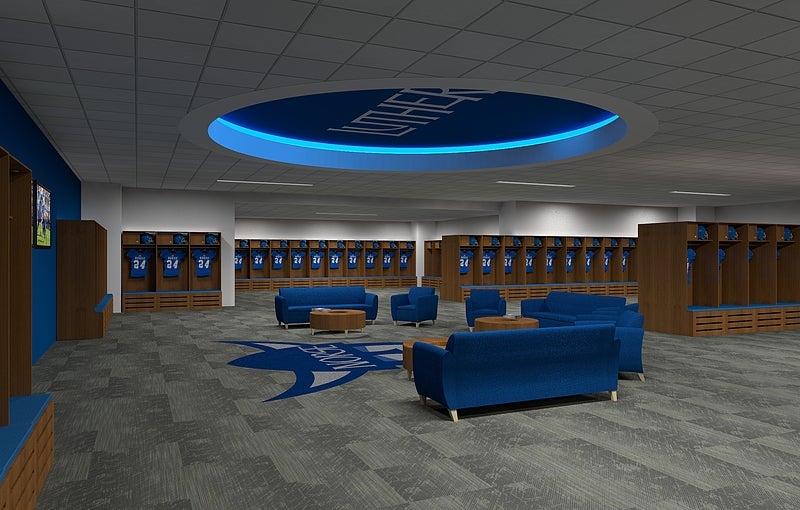 "Where all practices and competitions start and end..."
Locker rooms. While not exactly exciting to talk about, these spaces are a necessity for any athletics complex, and they're imperative for our sports teams. In fact, the locker rooms are where all practices and competitions begin and end. Designated team locker rooms are a significant – and much needed – component of the proposed renovations to Luther's Regent's Center.
Gone are the days of simply lockers and shower rooms. Today's modern locker rooms are not just places to change clothes and clean up. They provide designated team spaces for game prep, video review, and meetings among coaches and student-athletes. Team locker rooms are important spaces to create team unity and hold both formal and informal meetings.
Projected Cost: $5 million
Naming Opportunities:
$1 million – Football Locker Room
$300,000 – Women's Track and Cross Country
$300,000 – Men's Track and Cross Country
$200,000 – Women's Soccer
$200,000 – Men's Soccer
$200,000 – Baseball
$175,000 – Wrestling
$150,000 – Women's Basketball
$150,000 – Men's Basketball
$150,000 – Softball
$100,000 – Women's Swimming/Diving
$100,000 – Men's Swimming/Diving
$100,000 – Volleyball
$  75,000 – Women's Tennis
$  75,000 – Men's Tennis
$  50,000 – Women's Golf
$  50,000 – Men's Golf
Further Improvements
In addition to upgrading shower facilities and increasing the number of individual lockers, a full renovation of Luther's team locker rooms will:
Provide designated spaces for all men's and women's teams and better accommodate our growing rosters
Offer shared centralized meeting spaces with the latest technology and video access
Modernize Luther's facilities on par with peer institutions
Create an environment for our student-athletes, visiting teams, and all facility users that is accessible, organized and safe
The addition and renovation of locker rooms for our athletic teams is exciting and necessary. Creating quality spaces to study and relax outside of practice shows our commitment to our student-athletes.

Amanda Bailey

Head Women's Basketball Coach
Contact Information
Nathan Ersig '98
Senior Director of Development
Send Email
Phone: 563-387-1510
Give Now