Hispanic and Latino Alumni Group
Message for Hispanic and Latino Alumni
August 4, 2021
Greetings and happy August!
I hope you have enjoyed your summer and are staying safe.
As we discussed in our meetings this spring, one of the areas of need we identified is mentorship for current Hispanic and Latino students. I encourage you to please consider applying to be a mentor through the Luther College Vocation Inspired Alumni Mentoring program. The VIA Mentoring program is an excellent opportunity for us to directly impact current Hispanic and Latino students and support them throughout the year.
More information about the program can be found here. The training sessions will be held on the evenings of Tuesday, August 17th and Tuesday, August 24th at 6:00 p.m. CDT via Zoom.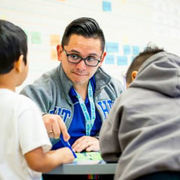 Please click this link to apply!
Be sure to contact me if you have any questions. I was a mentor last year and it was one of the most impactful and meaningful programs that I have participated in as an alumnus.
I hope you will join me for the VIA Mentoring training sessions!
Marlon Henriquez '15
Alumni Council Representative
henrma02@luther.edu