Paideia Summer Read
The Luther College Paideia program is excited to announce the 2023 Paideia and community-wide summer read, 'Solito: A Memoir' by Javier Zamora.
Courtesy of the Paideia Program, first-year and transfer students will be mailed the book in mid-June. Don't forget to complete your reading of Solito: A Memoir before you arrive on campus in August! This book will be the first book you discuss in your Paideia class this fall.
What Is Paideia at Luther?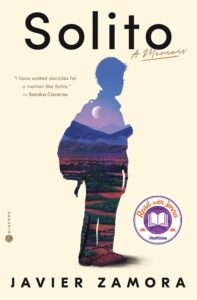 About the Book
Memoirist and poet Javier Zamora shares the unforgettable story of his harrowing migration from El Salvador to the United States at only nine years old. Accompanied only by strangers and a hired "coyote," he left his beloved aunt and grandparents to reunite with his mother and father in the United States. The 3,000-mile journey is supposed to last two weeks, but after their guide abandons them in Oaxaca, it stretches into two life-altering months spent among strangers turned guardians as they travel from El Salvador to Guatemala and to Mexico before arriving in the United States.
About the Author
Javier Zamora holds a BA from the University of California, Berkeley, and has earned an MFA from New York University. The recipient of the 2017 Narrative Prize, the 2016 Barnes & Noble Writers for Writers Award, and the 2020 Pushcart Prize, Zamora has been published in Granta, the Kenyon Review, American Poetry, the New Republic, the New York Times, and Poetry, among other publications. Javier Zamora lives in Tucson, Arizona.
Summer Reading Guide
Solito: A Memoir is the first reading assignment for Paideia 111. A reading guide will be provided with your book. Use the background and study questions to guide your reading and prepare for class discussions.